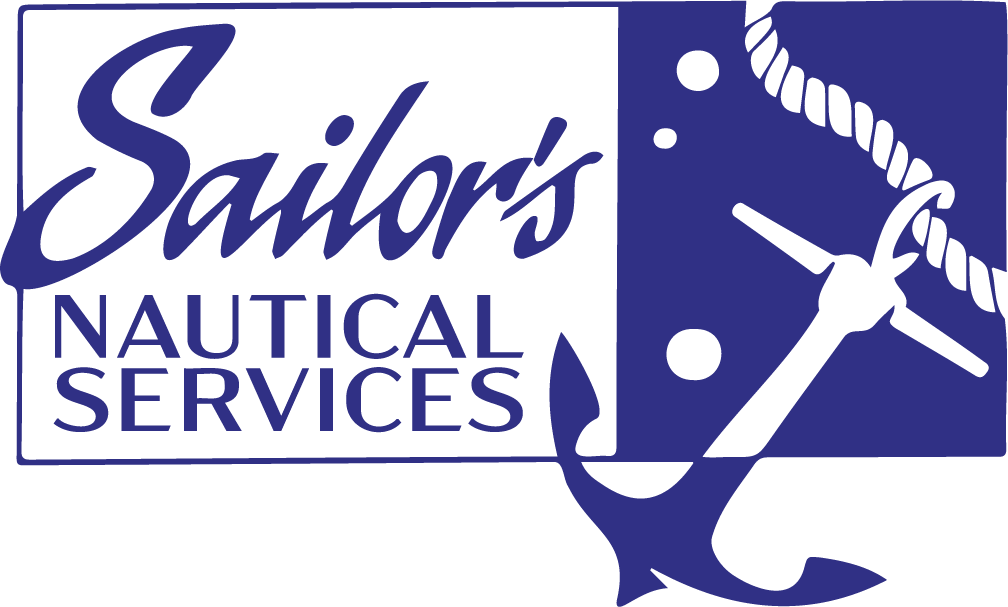 Preventative Maintenance:
An experienced sail maker can quite often pinpoint the cause of the sail damage and suggest remedies. We can handle any sail repair from traditional to high tech sails. We offer a large selection of material from tanbark to DIAX.  Our main supplier for sail making supplies is Bainbridge International. We only use top quality marine grade fabrics and hardware. We are your prime source for damage and chafe prevention for your sail inventory. We will install tack, stanchion, and spreader patches to prevent chafe in critical areas. Sun protection is crucial to the longevity of your sails. We maintain and install sacrificial sun cover strips on the leach and foot of roller-furling headsails. As an alternative for cruiser racers, we offer a a sun sock to protect your rolled-up headsail. Check our optimized sun sock design under the heading Sail Covers & Canvas.
Pre-purchase and Pre-cruise Inspections:
Let us check over your sail inventory before you buy or take a major cruise.
Conversions and Re-cuts:
We can convert your hank-on headsail to a roller-furling sail; or replace the luff tape to fit any brand furling unit. We can re-cut second-hand sails to fit your rig.
Sail Covers
We will custom design sail covers for your mainsail, including cutouts for lazy-jack or Dutchman systems. We offer our own Stackpack style cover system that combines lazy-jacks and a sail cover. Sometimes modifications to your old sail cover can make them easier to use and offer more protection. The addition of chafe protection can extend the lifespan of your covers. Sun socks – As an alternative to the traditional sewn-on sun cover which is detrimental to sail shape in light air, we offer a sun sock. A sun sock is zippered around the rolled up headsail and hoisted on a spare halyard. Our optimized design offers a crisscrossed bunt line system that snugs the sock around your rolled up sail to eliminate flapping and reduce windage. One sun sock can protect a variety of sails.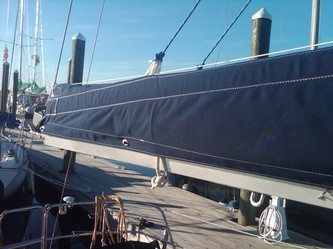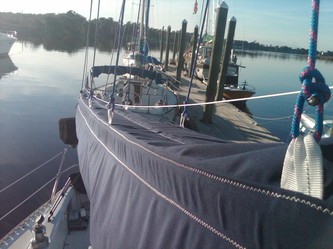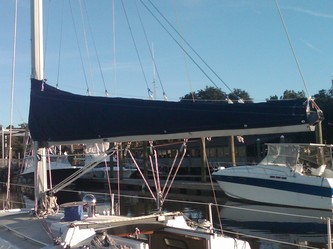 Biminis & Dodgers:
Our custom bimini and dodger designs allow for maximized protection while not interfering in the normal operation of your boat. We utilize high grade marine fabrics such as Sunbrella™ and Stamoid™ along with stainless steel tubing and hardware for great durability. We can repair and modify your existing top or replace the top while reusing your old frame. In addition we can fit and repair side curtains, backdrops, and connector pieces. We can waterproof old tops with protective treatments recommended by the manufacturer of the fabric.
Miscellaneous Canvas Covers:
Winch and windlass covers
Hand rail and coaming covers
Grill and outboard covers
Covers for dinghies in davits and on deck
Companion way and hatch covers and screens
Sheet bags
Sail bags including
Traditional sail bags
Turtle bags
Spinnaker launch bags
Deck bags for hank on head sails
Specialty Items for One Design Boats:
See our photo gallery below for pictures of some of these specialty items. Feel free to contact us with any ideas for one design specific items you want built.
Sunfish:
Full-length zippered sail bags
Blade bags
Hull covers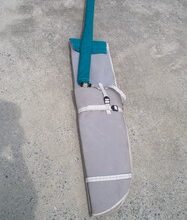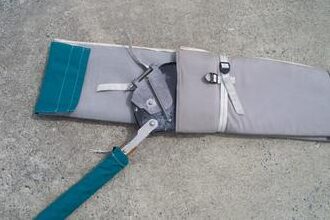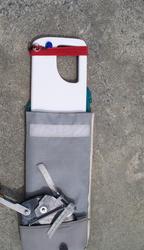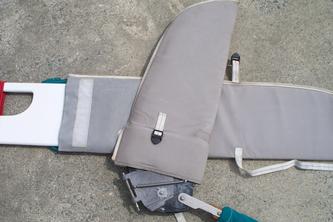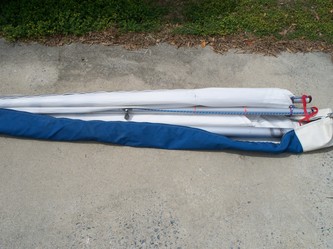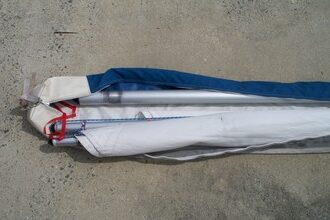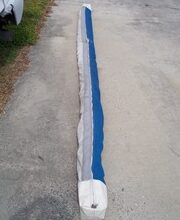 Viper:
Mast foot bags
Cockpit bags
Spinnaker launch bags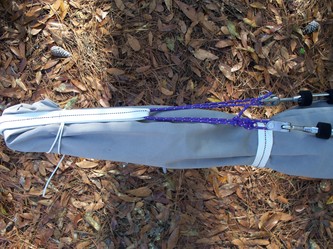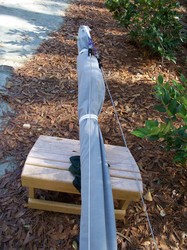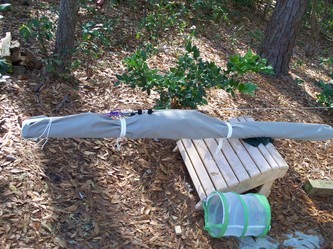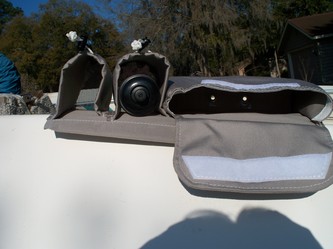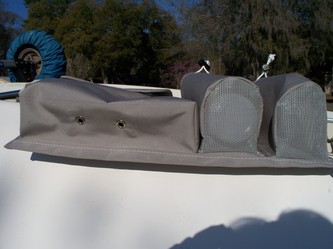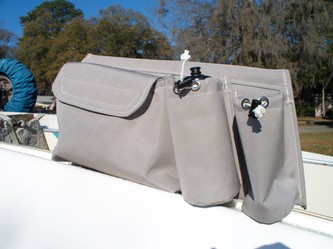 Splicing:
We custom splice anything from traditional Marlin spike work to high tech splices. We are able to fabricate tapered sheets, stripped halyards, and perform interlocking tail splices. We can add additional cover or core inserts to adjust the line diameter to the working diameter of your cleats and rope clutches.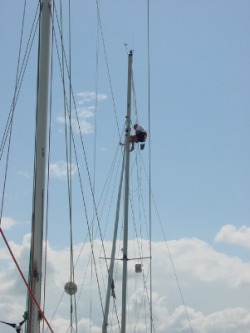 Rigging:
Our rigging services include insurance and pre-purchase rig surveys, installations and maintenance aloft, rig tuning (at dockside and under sail,) replacement of standing and running rigging, stepping and unstepping masts, installation and trouble shooting furling systems (head sails and in-mast/in-boom main sail furlers). 
We can design and engineer anything from lazy-jacks to towing and lifting bridles. We offer custom solutions to onboard safety such as harnesses and jack-line systems to keep you and your crew onboard as well as overboard recovery systems.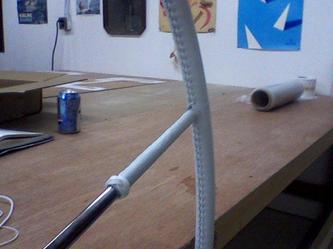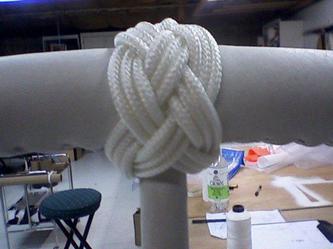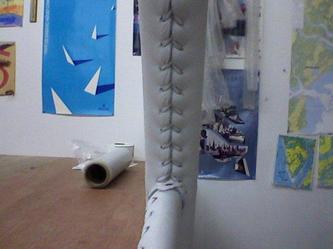 Leather Work:
We can provide you with traditional leather coverings for wheels and handrails using high quality sail maker leather as well as fabricate leather spreader booths, turnbuckle covers, etc. and add leather covers to boat chocks and boom cradles.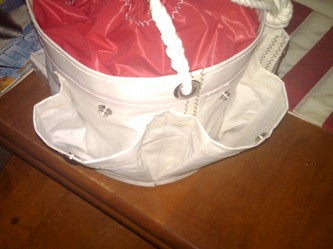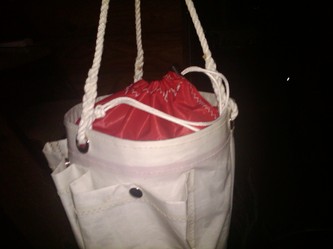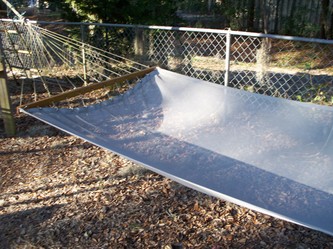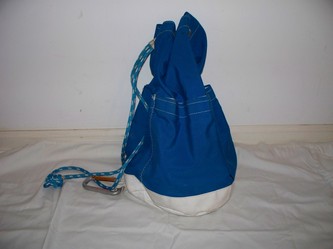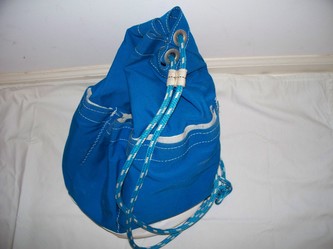 Custom Items:
We are able to design and build almost any custom item from sling bags and hammocks to tool bags designed to go aloft, or even to manufacture an item you have in mind.